Frat Boy News Sports (compiled by LATimes.com)



Barry Bonds became the all-time career home run leader tonight when he blasted a 3-and-2 pitch from Washington Nationals left-hander Mike Bacsik in the fifth inning at AT&T Park.

The ball landed 435 away in a crowd of straining arms in right-center field, giving Bonds a career total of 756, surpassing Hank Aaron's record total.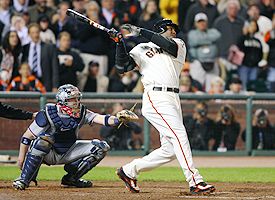 After Bond's historic shot, which came at 8:51 p.m., the game was halted for 10 minutes while Bonds hugged family, teammates and his godfather, Willie Mays. The 76-year-old Hall of Famer came out on the field to join in the celebration.

Then Aaron addressed the crowd via a taped video message on the scoreboard screen, saying that Bonds' feat was "a great accomplishment that required zeal and determination.

"The home run holds a special place in baseball and I was privileged to hold [the] record for 33 years."

The chase to the milestone, rather than inspiring a celebration, stirred national debate about the legitimacy of the record.

The chase made Bonds the face of baseball's steroid era, an unpleasant daily reminder that the explosion of home runs was followed by explosive allegations about widespread use of performance-enhancing substances during that time.

Commissioner Bud Selig reflected the ambivalence with months of declarations of his public indecision about whether to be in attendance for the record. Aaron said months ago he had no interest in attending, without specifically questioning the legitimacy of the record.