Friday's Frat Boy News Daily Sports Page

College Softball World Series (compiled by Graham Hays ESPN.com)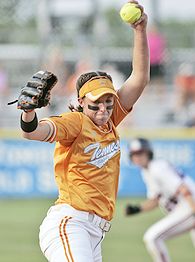 Almost every game at the Women's College World Series is a pitcher's duel, which is precisely why the last five years have proven you need hitters to win a championship.

Since Cat Osterman first led Texas to Oklahoma City in 2003, each subsequent World Series featured Osterman, Tennessee's Monica Abbott or both. And yet for all the postseason innings pitched by arguably the two best pitchers in the history of college softball -- and unquestionably the two most dominant pitchers of their tenures in the collegiate ranks -- neither the Longhorns nor Lady Vols could claim a national championship.
"One of the things that really bothers me is sometimes a pitcher is judged on whether she wins a national championship," Tennessee co-coach Ralph Weekly said after his team became the second in three years to lose the best-of-three championship series after winning the first game. Arizona beat the Lady Vols 5-0 Wednesday to claim the Wildcats' eight NCAA softball title.
The NCAA career leader in strikeouts, shutouts and a host of other statisical categories, Abbott was gracious and composed in defeat, fighting back tears at one point, but talking also of her plans for a future in international softball and outside of the game.
"Anybody who saw the game last night knows that [Abbott] pitched well enough to win the national championship," Weekly added. "But we left nine runners in scoring position, when all it would have taken was a sacrifice fly or a single to end it. And we just couldn't get it done, and that's not a knock against our kids either, because that was a collective effort."
Abbott finally succumbed in the final game of her college career, allowing five runs in one inning after allowing a total of five in her previous 90 innings.
She wasn't perfect in the finale, just as Osterman wasn't perfect at times during her stays in Oklahoma City. But those failures came only relative to the impossible standards of perfection, a level both Osterman and Abbott were charged with maintaining because they couldn't count on run support behind them.
In the end, it's not that Abbott failed to win a championship; it's that Tennessee failed to win a championship.