College Student Accused of Threatening Rampage Calls It a Misunderstanding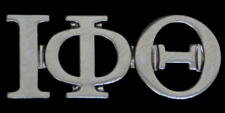 A brother of Southern Illinois University in Edwardsville's chapter of Iota Phi Theta pleaded not guilty to charges of threatening a Virginia Tech-like massacre at his campus, calling it a misunderstanding.

"I believe in God, and I believe God knows I have no intentions of ill will," said Olutosin O. Oduwole, the fraternity's president. Police found handwritten threats of violence in his car he said he would carryout unless specific conditions were met, police said.


According to police, Oduwole demanded money be sent to his PayPal account. In the note, police said he wrote "if this account doesn't reach $50,000 in the next 7 days then a murderous rampage similar to the VT shooting will occur at another highly populated university. THIS IS NOT A JOKE!"

In a 'Robot Chicken' episode, a gun is held to the head of an animated bunny rabbit and demanded to give money, which is where the adviser said Oduwole got the idea.

Police said that Oduwole had earlier this month purchased three semi-automatic handguns online, as well as a fourth semi-automatic weapon, an uzi-type firearm.

He was released from prison after posting bail.