Monday's Frat Boy News Daily Sports Page (compiled by Tony Guadagnoli, AHN)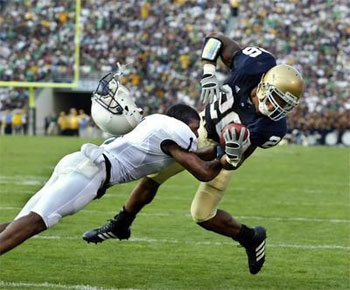 Though only one of the teams is likely to be ranked, the Sept. 9 matchup at Beaver Stadium between Notre Dame and Penn State is the hottest ticket in college football.

The average ticket price for the game at 107,282-seat Beaver Stadium is $1,100, according to TicketCity.com, which ranks the highest prices for tickets.

"Demand for Penn State versus Notre Dame is as high as we've seen for any game in the past few years," Randy Cohen, CEO of TicketCity.com., said in a statement.

TicketCity.com released its list of the hottest games of 2007 based on average price per ticket. The list was accumulated by compiling a majority of the available tickets on the secondary market throughout the entire country. The secondary market is comprised of more than 800 established ticket brokers, and every fan who is listing extra tickets to sell.


Not surprisingly, Notre Dame has four of the five most in demand tickets for the 2007 season.

The top five hottest games currently are: Penn State vs. Notre Dame (average price of $1,100), Michigan vs. Ohio State, Nov. 17 ($1,000); Notre Dame vs. USC, Oct. 20 ($950); Michigan vs. Notre Dame, Sept. 15 ($696); and Notre Dame vs. Boston College, Oct. 13 ($661).

"Notre Dame is always a big ticket, whether they are playing at home or on the road," said Zach Anderson, vice president at TicketCity.com. "Love them or hate them, college football fans always want to see Notre Dame."

Notre Dame is unranked in most preseason publications. Penn State was ranked 18th in the USA Today poll and is a consensus No. 17 in preseason publications.

The rest of the top 10 most popular tickets: 6. Florida vs. Florida State, Nov 24 ($581); 7. Auburn vs. Alabama, Nov. 24 ($571); 8. Texas vs. Oklahoma, Oct. 6 in Dallas ($555); 9. Georgia vs. Florida, Oct.22 in Jacksonville ($515); 10. Nebraska vs. USC, Sept. 15 ($505).

"The rivalry games are big every year," Anderson said. "Once you've been to them one time, you never want to miss it again. We have clients who buy their Red River Shootout (Texas/Oklahoma) and Iron Bowl (Auburn/Alabama) tickets from us every year. For them, nothing else matters other than making sure they are in that stadium for kick off."